See on Scoop.it – Email Marketing Virtual Assistant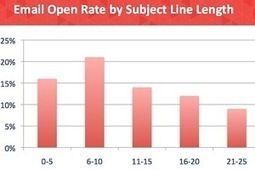 Email Marketing – Emails with subject lines of 6-10 words have the highest open rates, yet most emails sent by marketers have subject lines of 11-15 words, according to a recent report from …
Denise Aday's insight:
The most interesting finding to me here is that subject lines of 6-10 words actually out-performed shorter ones, as very short email subject lines are the usual recommendation. I often find this conventional wisdom limiting for creating a subject line with a clear, "what's in it for me" to open, message. Nice to have some new data to support this marketing urge.
For the emails analyzed, those with 6-10 word subject lines had a 21% open rate. Those with subject lines containing five or fewer words ranked second with a 16% open rate, and those with 11-15 words had a 14% open rate.
Succinctness is still the order of the day. Be brief, but be clear.