denise aday...
May 18
The AP Seizures and the Frightening Web They've Uncovered | NationofChange -
Mainstream media finally realizes it's just as vulnerable as the rest of us and has been making deals with the devil in its cooperation, complicity, utter docility. Now what?
"It's a moment described in the famous Civil Rights Movement saying, quoted by Angela Davis: "If they come for me in the morning, they'll come for you at night." After years of chipping away (largely without protest or even acknowledgement from the mainstream corporate media), at the rights of what the Administration considers the most dangerous and uncontrollable information source — the Internet and the activists and independent journalists who thrive on it like Wikileaks or Mayfirst, the web hosting service I helped found — they've now knocked on the door of the mainstream media."
May 17
"If Press Loses Freedom, Democracy Is Sunk. Let's put a stop to current abuses now." — http://bit.ly/10xnb5J
(Source: act.rootsaction.org)
Next on my business reading list > The New Inbox: Mobile's Impact on Email Marketing and Social Media
See on Scoop.it - Email Marketing Virtual Assistant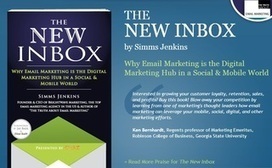 A review of email marketing expert Simms Jenkins' new book on how brands should be leveraging social and mobile in their email marketing campaigns.
Denise Aday's insight:
Email is still incredibly relevant and mobile is the way we like it:
"…smartphone users are more likely to read emails than to make calls" and subscribers will delete or unsubcribe "from email based on the mobile messaging experience…how you render on mobile really matters."
UPDATE: Reading the Kindle sample now, my only wish so far is that the gender-bias had been edited out. "Email's Wingmen" indeed. And that's not the only instance of the bias problem right from the get-go. Writers, there's no excuse anymore!
May 16
Cat Patrol
Cat people can relate to my morning ritual of cleaning the kitchen counters before use. When the floor's gotten a bit dusty, telltale paw prints show the way. The cats stop the occasional mouse, but who's to stop the cats?!
The dynamic duo at rest. They release all this stored solar energy at night ;)
Once activated: